Featured Book
Horizon Lines:
The Paintings of Gail Morris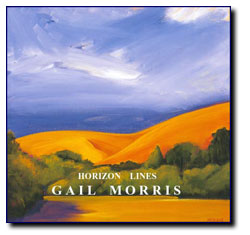 The landscape paintings of Gail Morris are deceptively simple. At first one is struck by their emotional exuberance and unencumbered forms, a combination that allows one to experience the sensual beauty of the land itself. Whether it is a brooding sky descending on a distant gorge or a brilliant sunset sweeping across an open field, the paintings convey a quiet sense of awe, a spirit that extends beyond the boundaries of the canvas.
Morris reduces each landscape to its essential elements, thus creating moments of exquisite stillness. Her bold, often geometric, forms define the weight of the land, separating it from the loose, expressive brushwork of her skies. In some paintings, large areas of broken hues rub against one another, each vying for attention. In other paintings, flat color fields are divided by sharp thin lines, creating a provocative division of space.
While some areas are painted in detail, others are scrubbed back to create an enigmatic sense of things that remain just beneath the surface. She often paints on location, but she doesn't illustrate. Morris's work is both vibrant and tranquil. It is intimate and expansive. She allows the viewer the opportunity to participate in the final details, creating personal images that remain in the mind's eye and stir the imagination.
Click here to view select plates from the book.
Published by Breckenridge Groves Books
ISBN 0-97212811-0-7  •  $34.95  •  Click here to download order form